From the guidebook: "The city's traffic is so dense and unrelenting that simply crossing the street can be a real headache, and weaving a path through a tide of motorbikes (2 million and counting) can be a hairy experience. Keep your wits about you as you explore the Old Quarter, as motorbikes come at you from all directions and pavements are obstructed by cooking stalls and yet more parked motorbikes." – that indeed is very true
Aus dem Reiseführer: "Der Verkehr in der Stadt ist so dicht und unerbittlich, dass einfache Dinge wie die Strasse überqueren einem Kopfschmerzen bereiten. Einen Weg durch die Flut von Motorrädern (2 Millionen und es werden immer mehr) zu finden kann eine haarige Angelegenheit werden. Seien Sie auf der Hut wenn Sie die Altstadt erkunden, da Motorrädern aus allen Richtungen auf Sie zukommen und die Gehwege mit Kochständen und noch mehr geparkten Motorrädern verbaut sind." – das ist die reine Wahrheit!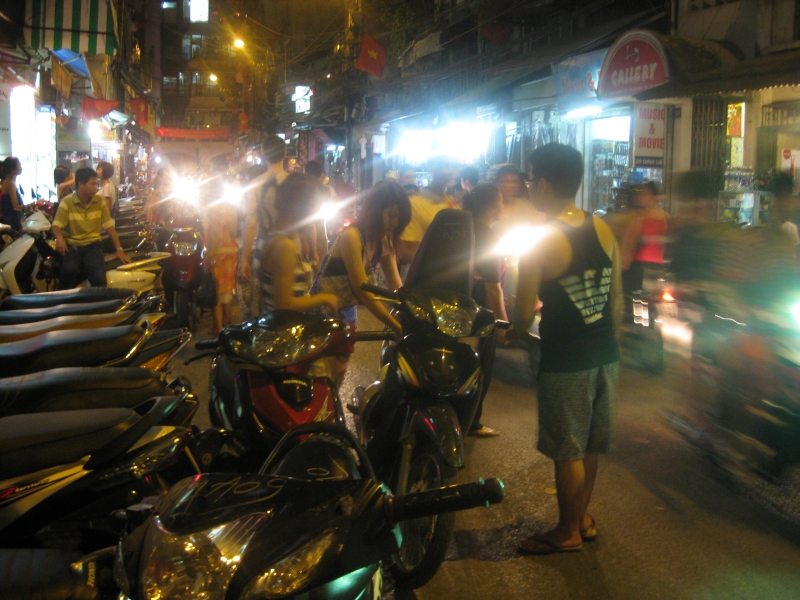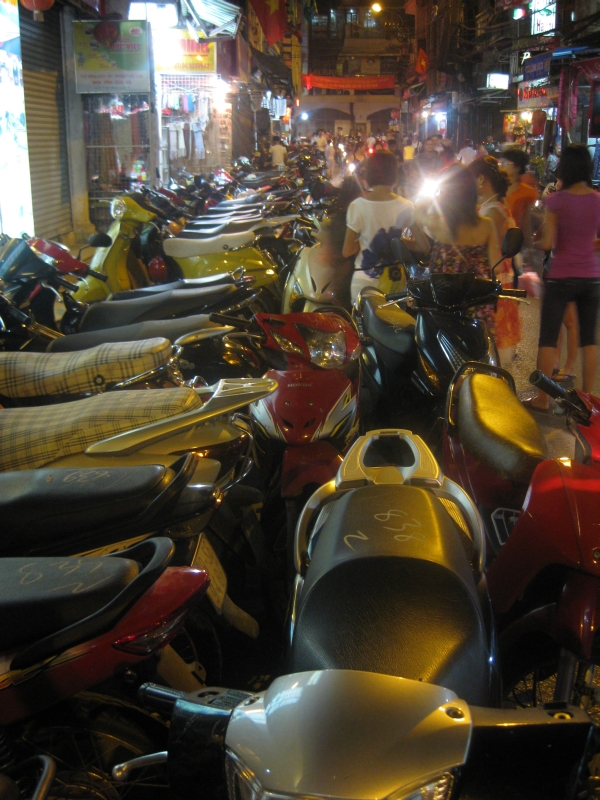 Weiterhin hatten wir noch ein problemorientiertes Gespräch mit dem Hotel, um Ihnen klar zu machen, dass wir auch für 15 Euro pro Nacht auf keinen Fall ein Zimmer akzeptieren werden wo man aus dem Fenster ins Treppenhaus schaut. "Die Zimmer mit großen Fenstern sind teurer", "Die Größe interessiert uns nicht, aber aus einem Fenster schaut man AUS dem Gebäude und nicht rein, und je länger wir hier rumdiskutieren, desto größer werden die Chancen dass wir spätesten morgen wieder auschecken". Das tat dann doch allen sehr leid, und wir haben jetzt perfekte Zimmer mit Fenster aus denen man auf die Strasse schauen kann für den gleichen Preis…. Geht doch… warum muss ich immer erst "rasten".